Where Elegance and Quality Meet
We believe that true beauty lies in the intricate details. Every curve, joint, and grain is carefully considered, resulting in woodwork that is not only visually stunning but also structurally sound. Our dedication to perfection ensures that each object carries the mark of timeless elegance and superior quality.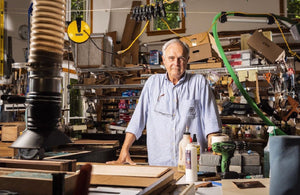 I recently hired Jim Tobias to make 2 "memory boxes", to be given as wedding gifts to 2 couples that are extremely dear to me. After looking at the work of many people, Jim's was among the most impressive, and one of the most affordable! At first, I was nervous about working with someone who I had never met and was located in a different state than I. But he went out of his way to keep me involved in every step of the process. He listened to my request, offered excellent suggestions and options, and was extremely helpful and professional. Because of all this, I felt confident and at ease, and was able to see with the constant supply of photos, that he was constructing exactly what I had envisioned, or possibly better! He was able to capture everything I had mentioned was important, and even complied with some rather strange requests. The result were extraordinary works of art that will be the perfect containers for the memories about to made by these two couples.

Lori H.
Jim masterfully created custom frames for some one of a kind art pieces.  He expertly helped me choose the right wood and matting to enhance the art work.  Each finished piece is a treasure and I would without hesitation recommend him for your next project as well as my own.  

Shirleen
Jim has an incredible skill with crafting and wood working by hand. He has completely remade an electric guitar of mine with a beautiful Macassar Ebony veneer top, new body paint, repainted electronics and everything. He has built sound absorption panels for my music / media studio. He has made Sweetgum Ball Pendants for my wife. His work is meticulous, detailed, beautiful to the eyes and I personally recommend his work to anyone with any fancy they have. He is currently thinning down a neck on a new guitar. Cannot wait to see the results.

Ryan Reedy
Our commitment to high-quality craftsmanship
Each piece that leaves our workshop in Winston Salem is meticulously handcrafted with a passion for excellence and an unparalleled attention to detail.