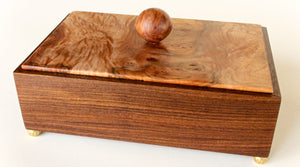 The Rosewood Jewerly box is hand-carved from a solid block of marble, showcasing a softly ribbed exterior. The similarities of Amazon rosewood to the Brazilian Rosewood (a protected wood by law) allows you to safely take home a beautiful wood that has long been associated with royalty in the past. The Rosewood Jewelry box adds an element of elegance to any setting, effortlessly complementing your home decor.
Crafted with attention to detail, each box of HJT is a unique masterpiece, fashioned from naturally-sourced wood that exhibits its own distinct markings and coloration. Embracing the inherent beauty of wood, no two boxes are exactly alike, ensuring that yours is truly one of a kind.
Versatility is at the heart of the Rosewood Jewerly Box's design. 
Amazon rosewood box with Elm Burl Top, Turned Kari Burl Lift, brass feet Dimensions: 8.5" W x 5" D x 4" H