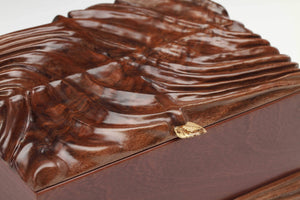 This exclusive collaboration embodies the epitome of elegance and craftsmanship, combining the timeless beauty of Amazon Rosewood with the intricate allure of a hand-carved Claro Walnut top, adorned with luxurious brass accents.
The body of this exquisite box is meticulously handcrafted from the finest Amazon Rosewood, chosen for its captivating grain patterns and rich, deep reddish-brown tones. Each panel showcases the natural variations and character of this coveted wood, creating a visual feast that captures the essence of beauty and sophistication.
Adding a touch of refined artistry, the Claro Walnut top is intricately hand-carved, a true testament to the skill and vision of the artisan. The swirling patterns and unique textures of the Claro Walnut create a breathtaking contrast against the lustrous Amazon Rosewood, resulting in a statement piece that reflects the essence of understated luxury.
To further elevate its elegance, this box is adorned with brass feet and a brass hinge, exuding a timeless sense of opulence and sophistication. The gleaming brass accents not only provide stability and durability but also add an exquisite touch that complements the overall design with an air of refined glamour.
Amazon Rosewood Box with Hand Carved Claro Walnut top. Brass Feet and hinge. Landscape Jasper Stone Lift Dimensions: 8" L x 5" W x 5" H